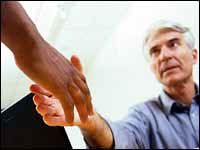 We look for many qualities in the individuals we hire -- the ability to communicate effectively, a high level of organization, strong interpersonal skills, and so on.
Regardless of an applicant's qualifications, we always look for one attribute in particular -- the desire to provide high quality products with excellent customer service. We can train people how to work with clients or run pieces of equipment, but to have passion for customer service and pride for your work takes a unique individual.
A safe, healthy environment is important to us. We operate a drug-free, alcohol-free, and smoke-free environment. A clean character record is also required.
If these are qualities you possess, we're sure you'll find a rewarding career with us. We supply our team with the latest technology, afford them the best training available, and provide every opportunity for growth within our company.
Current Openings...
SIGN TECHNICIAN JOB DESCRIPTION
Opening for a full-time team player with an eye for details, and a desire to produce quality products, and a good sense of humor.
Objectives:
With minimal supervision after initial training, produce signs/banners/graphics that meet customers' needs and exceed customer expectations for appearance, quality and service. Use time and materials efficiently to assure a reasonable job cost. Deal with customers, co-workers, suppliers and the public in a positive, friendly and professional manner.
Primary Duties:
1. Produce signs using computer cut vinyl, digital prints and other appropriate materials with speed and accuracy. Laminate and mount digital graphics.
2. Coordinate with graphics person to develop efficient use of time and materials.
3. Monitor use of materials and indicate when reorders are required.
4. Light installations.
Other Responsibilities:
1. Install vehicle and window lettering and small fixed sign installations.
2. Check in supplies and materials from vendors and suppliers as required.
3. Maintain a clean, safe and attractive work area which will make a positive impression on prospects and customers.
4. Other tasks as assigned.
Qualifications:
US Citizenship. High school diploma. Accurate skills in basic measuring, cutting, math, spelling and grammar. Desire to work in hands on environment: able to use hand and power tools with safety, speed and accuracy. Ability to deal with people and projects in a positive manner in potentially stressful situations. Self-motivated with a great attitude, solid work ethic, dependable, punctual and a team player. Willingness to learn and progress. A valid driver's license with a clean record.
Other:
Must pass a drug test and alcohol screening.
Fluent in Spanish a plus.
Graphics design knowledge a plus
Experience a plus, but will train the right candidate.
References required.
Compensation is based on the candidate's skills and experience.
Contact Us at info@signcraftersonline.com
We are located in lower Fairfield County, Connecticut.
Come and be part of our vibrant company where you can truly see the difference you make.